2017 UtahJS Pay, Education, Job-title Survey
In October 2017 a discussion on UtahJS Slack prompted a survey of developers about pay, career progression, and compensation. Some analysis of the results are provided here, and the raw data is available in this repository.
Demographics
69 people responeded to the survey. They described themeselves in the following ways:
Self Reported Job Titles
Other Job titles included: Owner, Team Lead, Software Engineer, Freelance Developer, and other variations.
Years of Experience
Education
Data Analysis and Commentary
Salary by Years of Experience
| | |
| --- | --- |
| Minimun | $35,000 |
| Average | $90,049 |
| Maximum | $175,000 |
| Standard Deviation | $33,476 |
Salary By Education
| | Mean | StDev | Lower | Upper |
| --- | --- | --- | --- | --- |
| Bootcamp | $60,423 | $16,747 | $50,302 | $70,543 |
| Self-taught | $86,062 | $30,658 | $69,725 | $102,399 |
| Traditional University | $104,718 | $29,841 | $88,817 | $120,620 |

Salary by Experience & Education Type
Salary by Job Title
Job title by experience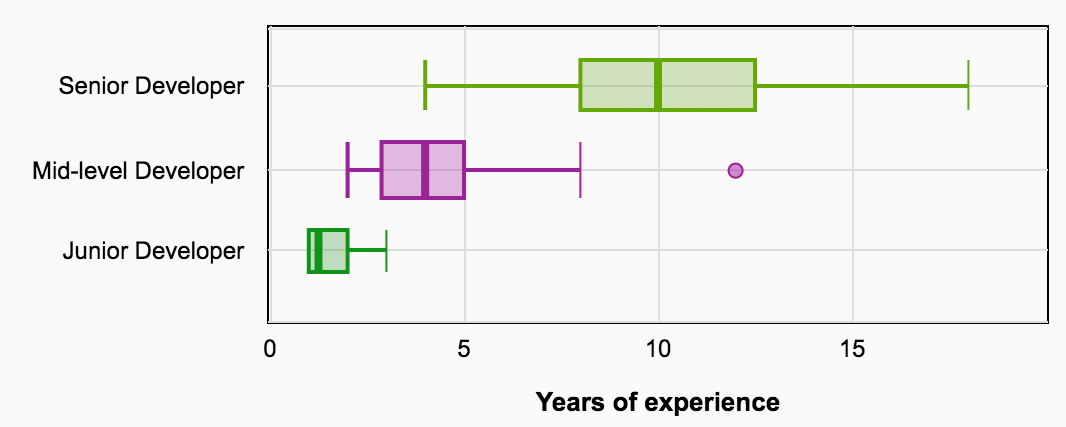 Salary by Location
Comparison to similar 2016 survey
Comments
What was most interesting to you? What other insights might there be? Please dicuss: